You wonder what I see in your future? Possibility.
This article is about a future event.
The information here might be incomplete, please wait for the release date!
Another Thanos event will most probably appear in the future, since it has already started in the Japanese version of the game[1].
Japanese announcement
Edit
Starting on Friday, June 16, the limited-time event "Thanos: Threat of Black Order" will appear!
Let's save points, get the event limited Angela Tsum and various rewards!
▼ Event duration period
Friday, June 16, 2017 0:00 - Wednesday 28th June 2016 23:59
▼ How to receive rewards
Earned rewards will be automatically sent to the Mailbox.
The event will appear on the Stage screen.
It will be available after you clear all of Stage 1.
Battle Outriders, they will sometimes drop keys.
Use the keys to unlock battles with the Black Order members

 

Black Dwarf and

 

Supergiant. Defeat the villans and get points for your Ranking.
Battle with Thanos
Edit
Thanos will emerge randomly!
You have to finish off Thanos within a time limit.
Battling Thanos can earn you points and rewards based on your performance.
Battle cooperation is available for the battle with

 

Thanos!
Depending your score, you will receive a Ranking Prize!
You can participate in Ranking by earning more than 5,000 points in total.
Ranking will be held within a group of 20 people.
Participating players are randomly chosen from all players.
The upper limit of points is 999,999.
You will receive your ranking prize even in case of a tie!
Ranking Prizes will be available from the Mailbox after June 29th.
Bonus points are available if you use the following Tsums:
If you achieve all the goals AND rank within top 5 on your ranking list, you can get Angela to 99 Luck!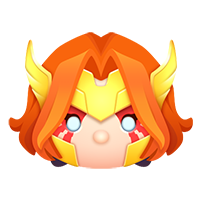 Touch
A sword pierces the screen
I will erase the Tsums around the sword!
Ability
Activate with 100% probability when HP remaining 30% or less
ATK will be up for a while!
In addition to

 Angela, an event limited Tsum
 Mosaic will also reappear.
( Event limited Tsum may reappear. )
References
Edit
Ad blocker interference detected!
Wikia is a free-to-use site that makes money from advertising. We have a modified experience for viewers using ad blockers

Wikia is not accessible if you've made further modifications. Remove the custom ad blocker rule(s) and the page will load as expected.