We can do this all day!
This article or section is incomplete and may not contain all the necessary information.
Please help by expanding it.

Don't ever tell me there's no way!
This article requires information that is hard to obtain.
If you know something that can help, please contribute!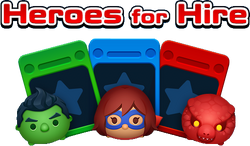 The February 2017 Heroes for Hire event took place in the last two weeks of February 2017.
Board prizes
Edit
| Board | Difficulty | Medals | Prize |
| --- | --- | --- | --- |
| 1 | | | 5,000x |
| 2 | | | 3x |
| 3 | | | 5,000x |
| 4 | | | 3x |
| 5 | | | 3x |
| 6 | | | 5x |
| 7 | | | 3x |
| 8 | | | 10,000x |
| 9 | | | 3x |
| 10 | 4 | 25 | Luck +5 |
| 11 | 3 | 20 | 5x |
| 12 | | | 5x |
| 13 | | | 5x |
| 14 | | | 5x |
| 15 | 5 | 30 | Luck +5 |
| 16 | 4 | 25 | 5x |
| 17 | | | 10x |
| 18 | 6 | 35 | 5x |
| 19 | 5 | 30 | 10x |
| 20 | | | 5x |
| 21 | 7 | 40 | 10x |