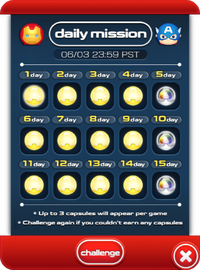 Daily Challenge
is a limited-time event with 15 daily missions to break Capsules which contain useful prizes.
Every day, the player is given the chance to play a mission to break up to three Capsules. The mission can be replayed until at least one Capsule is broken. There is a maximum of three Capsules in each such mission.
The event pops up automatically every day, but it can also be accessed from the

Daily Challenge button on the

Stage screen.
Capsules
Edit
Every day's mission has a maximum of three Capsules: the first is a

Rare Capsule (
Orb Capsule on the 5th, 10th and 15th day of the Challenge), and the other two are
Normal Capsules.
Ad blocker interference detected!
Wikia is a free-to-use site that makes money from advertising. We have a modified experience for viewers using ad blockers

Wikia is not accessible if you've made further modifications. Remove the custom ad blocker rule(s) and the page will load as expected.